100% Online Experience
Shop Our
Express Store
Instant Pricing - No Hassle - Build Your Deal Online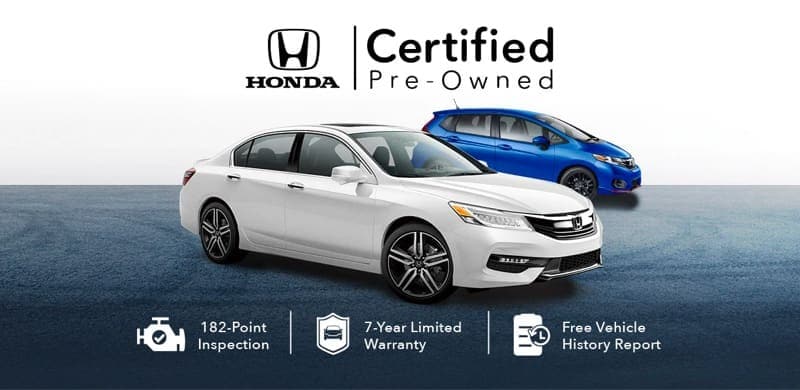 Certified Pre-Owned
Nothing compares to the quality of a Honda. No other program comes close.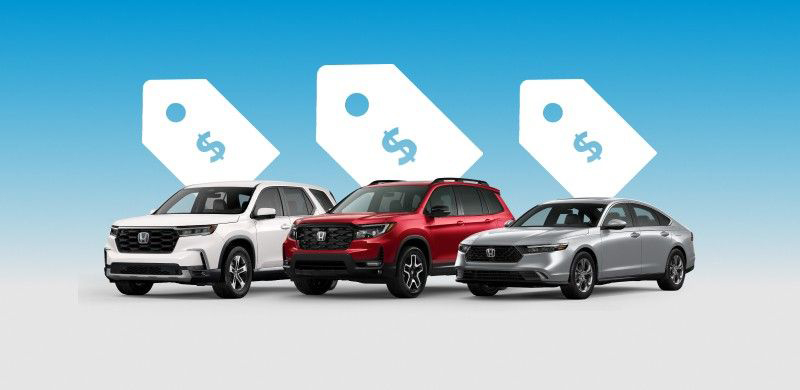 Current Offers
See this month's featured current offers going on now on new Honda vehicles.
Our Reviews
I have bought many cars over the years, this was my first experience through email and an out of state dealership. The sales rep. Yolanda Aldrich was great, quick to respond to questions I had with detailed answers which made me feel at ease. One of the days I had a few more questions, I was informed by the Sales Manager Caitlin Conley that Yolanda was off, and she had step in seamlessly answering my questions, again easing any concerns. Once the price was agreed upon I then had the pleasure of meeting the two in person. They were both so friendly and full of personality which made it seem like I wasn't even buying a car. I can tell I've never felt that way at a dealership. I would buy another vehicle from Liberty Honda because of these two women who made it so easy and delightful.
Eric was a great help with information about a new Odyssey
(Translated by Google) Excellent customer service (Original) Excelente servicio al cliente
I just picked up my 2022 Honda CRV Hybrid. It is everything I wanted and more. Thank you Justin Dingle for all your help. Best sales person ever. He is very communicative , helpful, very friendly and honest. He helped me when Honda of Wallingford dropped the ball and didn't get me my car after 4 months of waiting. Justin ordered me my car and got it in less than 2 months.
I just picked up my 2022 Honda CRV Hybrid. It is everything I wanted and more. Thank you Justin Dingle for all your help. Best sales person ever. He is very communicative , helpful, very friendly and honest. He helped me when Honda of Wallingford dropped the ball and didn't get me my car after 4 months of waiting. Justin ordered me my car and got it in less than 2 months.
Hello, this review is for all the Enfield (my hometown) area folks. Don't deal with the horrible deals in the area, or across the border in WS. The folks who sell the cars are great people, the dealers....they are simply bandits 🤣✌️. Check out Liberty Honda, no ADM., and a clear price below MSRP. I completed EVERYTHING on my phone before the dealership even opened their doors for the day. Loved the experience...👍👍 UPDATE ### Took delivery of my Ridgeline yesterday, have to say this was the ONLY pleasant car buying experience in my 57 years. Thank you so much Justin, I look forward to getting all my service, and accessories at Liberty, so I will see you soon my friend. Also, have to mention how stress free the dreaded trip to the finance manager office was. Rocky explained everything available, and was pleasure to deal with. Thanks Rocky! I will return to the Executive Auto Group for stress free deals. They saved me just over 2k from that WS Mass., dealer that has had the same Ridgeline on his lot for over a month....now I know why!🍻😂
Awesome services, they were respectful, they were kind, they were gentle and great communication. I love it!https://hondaautoshop.com/shop/
i bought my first new car here! luis and rocky are so friendly and made sure i understood everything along the whole car buying process. ive gone to 3 other honda dealerships and this is by far the best one. you don't feel pressured at all and they are SO patient.
Too expensive , and didn't care for consumer !
(Translated by Google) Get your car here nice place and good people...lots of nice people in this place that's why 5 star (Original) Get your car here nice place and good people..muchas personas amables en este lugar por eso 5 star
I worked with Amnon Udi and he was wonderful. He gave me a great deal, respected what my budget was, what I needed in a car, and go it done super fast. I will be telling all of my friends about the great people at Liberty Honda and will most likely buy all of my cars there from now on. Thank you Udi!
We bought a car on the first visit even though we had no intentions of buying one. No pressure to buy. Yolanda was great at explaining everything to us.
My experience with Liberty Honda Service department has been awesome. I've been there twice, upon my second time I had to request service agent Jamie because I loved her from my first visit. Jaime is awesome she kept me well informed, answer all my questions and had great patience getting me all the information I needed. Thank you Jaime and Liberty Honda of Hartford!
I had an excellent experience with James Landon. My husband and I both are leasing hatchbacks from Liberty Honda. However, when we first moved from Missouri to Connecticut, we found Liberty Honda very helpful in changing our vehicles and servicing the car we had. Lovely group!
I would absolutely recommend Liberty Honda to anyone. Rick in sales was fantastic. He was very knowledgeable and attentive during the entire leasing process. He kept me informed as to when my new vehicle was going to be delivered and came in on his day off to meet with me when I took delivery. Liberty quoted me the best price for my lease compared to three other Honda dealerships and they were able to get me into the next trim level up compared what the other dealerships had quoted. The deal I was offered was a no brainer. I will absolutely return to Liberty for my next vehicle. The business Manger Marissa was also a pleaser to work with. She offered me several different options during the closing process with no pressure and once all decisions were made had me on my way in no time. I was seriously blown away by the entire process. Go to Liberty Honda for your next vehicle, you wont be disappointed. Greg B / Suffield CT
Working with Liberty Honda has been a pleasure. My lease was coming to an end and I scheduled an appointment to see my options.. I Met with Agent John Cunningham. He was extremely effecient, polite and courteous and made what could have been a frustrating experience very comfortable. I selected a car that wasn't readily available, but instead of delaying the process, he found one that was not just ready but better. We scheduled an appointment to pick-up my vehicle the following day, on his day off; what a Blessing.. Thank you John, it was a pleasure meeting you 🤗
Yesterday, I picked up my new CR-V from Liberty Honda. I couldn't be more pleased, and it was a pleasure to finally meet my salesperson, Justin. He is every bit as pleasant and professional in person as he is on the phone. Three weeks ago, at the end of March, I called Liberty Honda to ask about new CR-V availability. I anticipated having to order and then to wait for a few months before getting the car I wanted. I had done my car-shopping research, and I told Justin what I needed in a CR-V. He told me that while they had none available at that time, there was one trim/model going into production in early April and they expected to have delivery before the end of the month (but no promises). With no pressure, he asked me if I wanted to consider one of these, and he acknowledged that it would be more expensive than the trim/model that I had asked about. I told him that I'd have to think about it and get back to him. Again, no pressure. After all, I had the option of ordering a less expensive CR-V that could be available some months later. So I called back only a half-hour later to tell him that I did want the car that was going into production in April, and we began the arrangements to reserve that car for me. Despite a COVID exposure that caused the salesroom to be closed for a few days, Justin and Daniel kept me updated, which I really appreciated. I am an older, gray- haired woman, but Justin and Daniel treated me like any valuable customer, and they were respectful of my knowledge and needs in a particular vehicle. Likewise, closing the deal with Rocky was equally comfortable, as we reviewed the final paperwork and processes. In light of the current economic manufacturing and shipping situations in the US and abroad, I still feel that I got what I paid for, and I was quite satisfied with the genuine, honest, and respectful customer service at Liberty Honda. Please keep it up! One catches more flies with honey than vinegar.
The staff (namely Udi and Rocky) are people of integrity, friendly service and professionalism. I have owned Hondas purchased at various dealerships over the years, and this was by far the best experience I have had. In a world of chip shortages and delays, I got the car (2022 Civic Si) I was promised, having been kept up to date on a weekly basis with delays and when I could expect delivery. The financing and protection plan explanations were incredibly thorough. If you are looking for a car, Udi Amnon is the finest salesman you will ever meet. This dealership has my full recommendation.
Great salesmen and staff, especially James. He was the reason I got my car from this dealership.
Excellent Product Excellent service
Good dealer helpful personnel.
I paid $599 for dealer convenience fee when i purchased my current used car at your store. Is the fee an expected amount of money in CT?
Professional and courteous the service was excellent
Welcome to Liberty Honda
As part of the Executive Auto Group, Liberty Honda gives customers the Best Price First. With non commissioned sales people, no haggling, an industry-leading exchange policy, and a satisfaction guarantee allow Liberty Honda to provide you with the absolute best car-buying experience you've ever had. Everything is included in the listed price, so there aren't any surprises down the road. We're here to help you find the perfect car that fits your unique needs and lifestyle. That's The Liberty Way, and it's why we're consistently rated one of the best dealerships in Connecticut.
Whether you're looking for a new or pre-owned Honda, Liberty Honda has the vehicle, options, and colors you want - in stock and ready to test drive. From the sporty Civic to the highly-capable Odyssey, your next Honda is waiting here for you to fall in love with. A variety of lease and financing options are available to ensure that your dream car fits within your real budget.
The Liberty Honda Service Center is fully-equipped with the expert technicians, OEM parts, and Honda-approved tools to keep your vehicle in peak condition - whether you bought it from us or not. From routine maintenance to major vehicle system replacements, the Liberty team will give your vehicle the absolute best care, so you can Drive with Confidence.
Visit Liberty Honda today or contact us to learn more about Honda options, financing opportunities or Honda service. Trust The Liberty Way.
Get Directions To Liberty Honda